We had the following events in October, 2016:
---
Pipers in the Library
Date: October 13th, 2016, from 3:00 pm to 4:30 pm
Location: Library Student Lounge
This event celebrated the opening of the Pat Taylor Piping collection at CBU Library, as well as Celtic Colours International Festival.
Two World Class pipers: Trevor Kellock (who runs the CBU Pipe Band); and Alana MacInnes from Scotland (on "loan" from Celtic Colours) discussed and demonstrated piping styles and influences in an informative and interactive presentation. Dr. Heather Sparling organized the event and was on hand to emcee. Trevor is shown below playing the Highland Bagpipes. (See the picture below)
Some Piping Memories
In the video below, Mary Dobson, Technical Services Librarian, explained to the audience that over 170 books and scores on bagpiping and fiddling, as well as 90 CDs were generously donated by Charles Patrick Stirling Taylor to the Cape Breton University Library. These items are now in the general collection of the CBU Library and are available to be borrowed.
---
Middle East – Global Musics
Date: October 5th, 2016, from 3:00 pm to 4:00 pm
Location: Library Student Lounge
A generous donation from Louis Maroun and Dr. Magdy El Kady has allowed the CBU Library to build the Maroun El-Kady Collection: English-language materials that cover the areas of culture, economics, geography, history, economics, and political science of the Middle East.
Shown here with some of the items donated to the Maroun El Kady Collection, special guest speaker Dr. Anne K. Rasmussen (picture below) provided a talk on the musical traditions of the Middle East.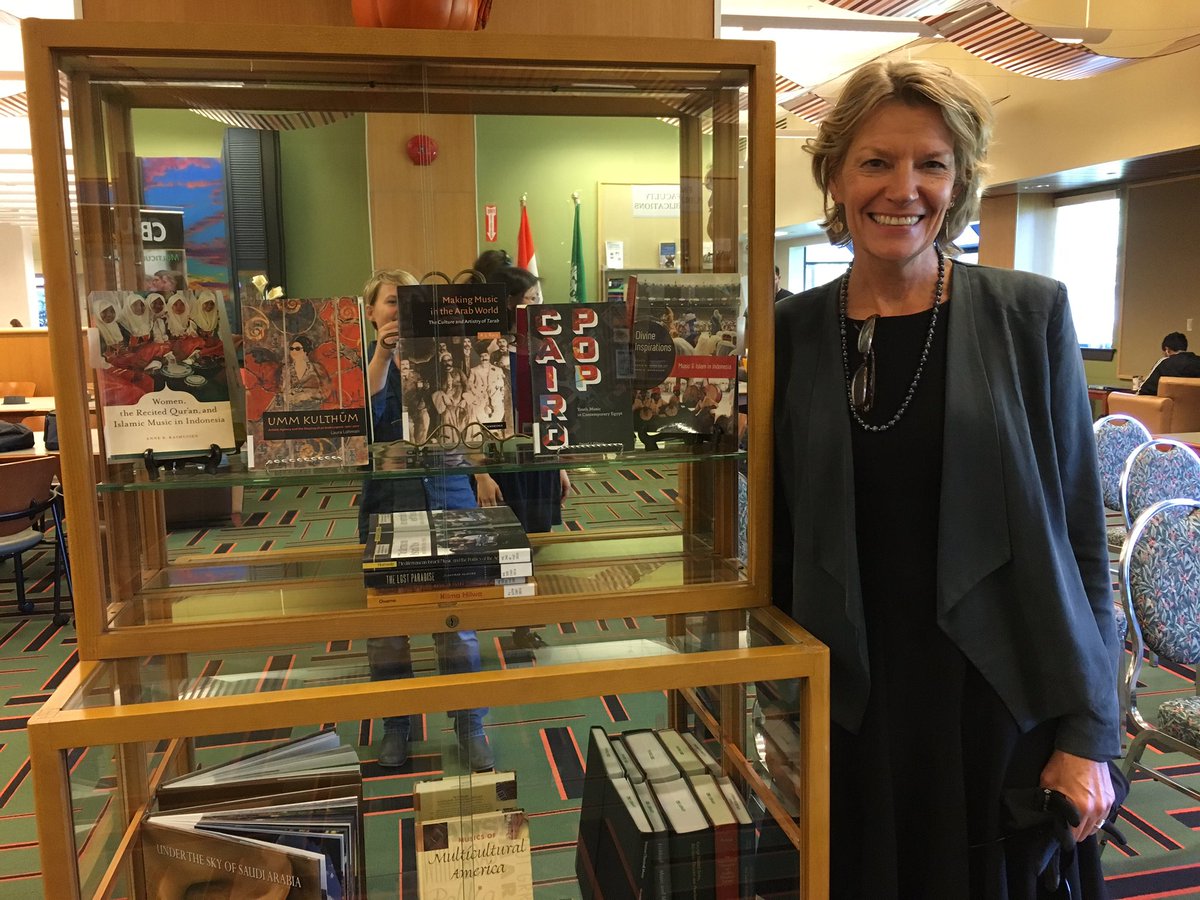 Dr. Rasmussen is Professor of Music and Ethnomusicology, the Bickers Professor of Middle Eastern Studies, and Director of the William and Mary Middle Eastern Music Ensemble at the College of William and Mary. She is also currently the President of the Society for Ethnomusicology. Also shown are the Qanun 78 string Zither, the Ud fretless lute, and the Dara buka drum.
For this event, Dr. Rasmussen provided a brief address about studies of musics in the Middle East, then was joined in a short musical performance by her colleague, ethnomusicologist Dr. Anne Elise Thomas, and percussionist Hansen Millison.
---
Mi'kmaq History Month – Art From the Heart
Dates: October 3rd to October 17th, 2016
with Launch Event on October 3rd from 1:00 pm to 2.00 pm
Location: Library Student Lounge
This exhibit, on extended loan from the Nova Scotia Art Gallery, features the work of Alan Syliboy, a Mi'kmaq artist who shared time with youth in First Nations in order to explore how they would express pain and hurt through art.
Art from the Heart is an exhibit created as part of the Aboriginal Children's Hurt and Healing Initiative. Forty-two youth from First Nation communities spent time with world-renowned artist Alan Syliboy from Millbrook First Nation to express their pain through art. Twenty-two pieces of art were showcased in the exhibit. John R. S. and Mary G. spoke at this event.
This art project was a way for children to express their feelings. It is important to think about how we can support the revival of the Mi'kmaq language as there is no word for pain in the Mi'kmaq language in this display.